306 380 6204 nfzwaterfowl@mail.com
No Fly Zone Waterfowl Outfitters is located 30 minutes NE of Saskatoon, Saskatchewan. Owner and operator John Prosak purchased the property due to its location in the heart of Saskatchewan's flyway. This province is home to one of the largest duck populations on the continent. Thousands of "honkers" fill the sky with long V-formations; snow geese cover fields like freshly fallen snow, and sandhill cranes fill the air with distinctive rolling cries. With our high bag limits and multiple species of waterfowl, No Fly Zone is in the centre of the migration. There is no other place in Canada to experience hunting like this.
John has been a guide in the hunting industry since 2007 making clients successful with waterfowl, whitetail, bear, and bighorn sheep hunts.
You may have seen him on TV shows such as Driven, Winchester Deadly Passion, The Fowl Life, and Avian X, creating memorable and successful hunts with his clients. With his hardworking staff of professionals, No Fly Zone strives to provide their clients with just that; successful, memorable, safe hunts. During the offseason, John is involved in the hospitality and tourism industry and runs his guest ranch www.sturgeonriverranch.com located on the west side of Prince Albert National Park. With John's knowledge and experience in these industries, you'll come for a waterfowl hunt but leave with an experience.
No Fly Zone Waterfowl Outfitters is a member of the SCPO (Saskatchewan Commission of Professional Outfitters) and operates under the outfitting license number E9022.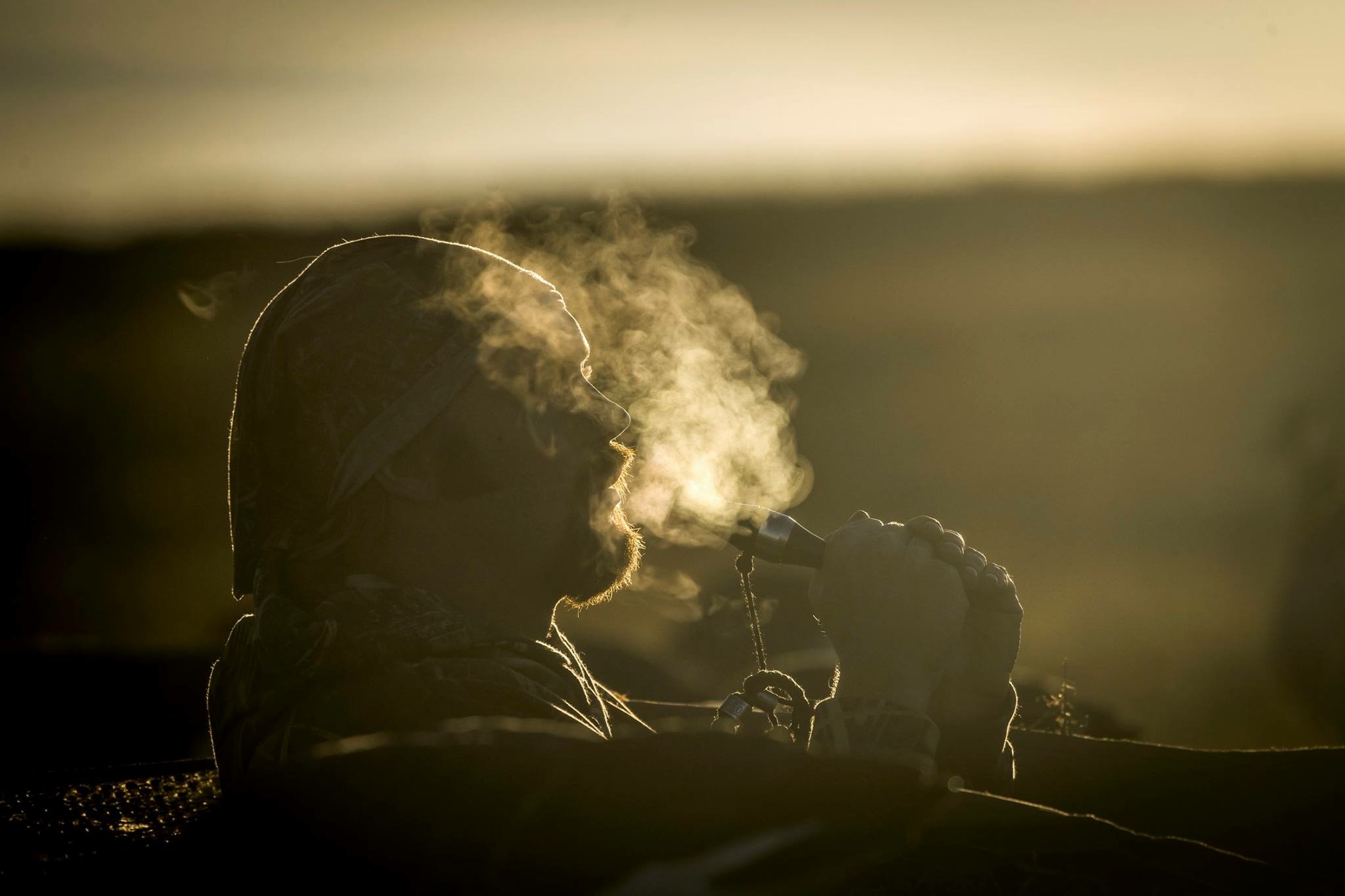 Hunting
Early morning breakfast around 4am and then head out to the field to set up the decoys and blinds for a morning waterfowl hunt. The morning hunt is a great experience with lots of Snow Geese, Canada Geese, Specklebelly Geese, Sandhill Cranes and ducks filling the skies. We use many Snow Goose decoys, flyers, and rotary decoys, as well as electronic goose call to our birds.
Around 10 am or when we limit out we head back to the lodge for brunch and relax until we are ready to venture out for our evening duck hunt. After our evening shoot, we have prepared for you a home-made supper, and spend the night relaxing and relive the day's hunt.

Accommodation
Located on 160 acres of rolling Saskatchewan prairie, between the towns of Aberdeen and Vonda your home away from home waits for you after your hunts. The five bedroom, two bathroom house offers the feel of home with access to laundry, wi-fi, T.V, and the kitchen. Hunters are housed two per room, but other arrangements can be made for couples.

Meals
We are early risers for morning hunts (4:00 a.m.) so we provide a light breakfast to start your day consisting of, cereal, toast, bagels, muffins, fruit, yogurt, coffee/tea and juices.
Upon returning from the morning hunt there will be brunch consisting of items like French toast, pancakes, waffles, bacon, sausage, eggs, hash browns, and fruit, in combination.
Suppers are homemade meals from, pasta, soups, burgers and fries, fish, roasts, meatloaf, mashed potatoes, chicken, followed by dessert.
Please let us know of any dietary restrictions so we can plan accordingly.
Transportation
Transportation to and from the Saskatoon Airport as well as to and from the fields you are hunting is provided by No Fly Zone Waterfowl Outfitters. However if you wish to have your own means of transportation, YXE airport has a number of car rental options. More information can be found under Resources.
waterfowl hunting Bag Limits
Ducks - daily limit of 8, only 4 may be pintails
Dark goose - daily limit of 8, only 5 may be specklebelly, no hunting dark geese after noon until October 15th
White goose - daily limit of 20, no possession limit
Other duck and goose possession limits are 3 days daily bag limits.
Bird Processing
This service is included in your waterfowl hunting package however if you want to participate in cleaning the birds, it can be a fairly quick process.
All birds headed back into the states must have a fully feathered wing attached to it for evidence of sex and species. You may donate all your birds as well. Any birds left over are given to landowners/locals or taken to the butcher and made into jerky, no bird goes to waste. Shipping of waterfowl is not allowed by Saskatchewan law, so hunters must accompany the birds back to the US in a cooler.

Shotgun Rental
We strongly recommend that you clean and check your shotgun before you arrive to Canada for your waterfowl hunt to make sure it is working properly. For those who do not want to deal with bringing their own firearms into Canada, we offer shotgun rentals for $50/day. You have a choice of a 12 gauge TriStar Semi-automatic and 12 gauge Winchester pump action shotgun.
More information about declaring firearms, and how to bring them across the border can be found under Resourses.
three day hunt $2400 five people or more
Includes:
Three morning shoots
Two evening shoots
Three nights accommodation
Meals
Licenses
Guides
Bird Processing
Transportation (airport and field)
Decoys & Blinds
Three day hunt $2600 four people or less
Includes:
Three morning shoots
Two evening shoots
Three nights accommodation
Meals
Licenses
Guides
Bird Processing
Transportation (airport and field)
Decoys & Blinds
six day hunt $4000 Five people or more
Includes:
Six morning shoots
Five evening shoots
Six nights accommodation
Meals
Licenses
Guides
Bird Processing
Transportation (airport and field)
Decoys & Blinds
Six day hunt $4500 four people or less
Includes:
Six morning shoots
Five evening shoots
Six nights accommodation
Meals
Licenses
Guides
Bird Processing
Transportation (airport and field)
Decoys & Blinds
Not included in our packages: airfare, shells, alcoholic beverages, gratuities, sales tax (all package prices are in USD)
Non hunters are welcome for $250/day
go to our packages page to see our all inclusive hunt package